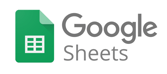 Spreadsheets included as part of a free, web-based software office suite offered by Google


Integrate Google Sheets in Minutes
Integration Fox provides one of the most comprehensive integration services for syncing data to Google Sheets.
Sync data from Integration Fox Supported platforms to Google Sheets, without a developer, in minutes.
Integration Fox provides deep and granular control over how your data is mapped, synced, created and managed between Google Sheets and other platforms.
Google Sheets and Hubspot Integration
Though there wasn't a way to create advanced reporting in Google Sheets from your HubSpot data? Struggling to keep your data updated and accurate across the board in real-time? Now there is a solution!

Connect up your Google Sheets data to your HubSpot CRM and seamlessly keep your data updated and integrated.
Think of it as an easy-to-use connector between your business CRM and your website, with no messy manual work required and only complete accuracy between the two platforms. It's simple, secure and fast with a real-time dashboard that lets you keep track of all your information in your own time.